The printing on textile material offers us an unsurpassed quality while respecting the environment, and many applications for interiors.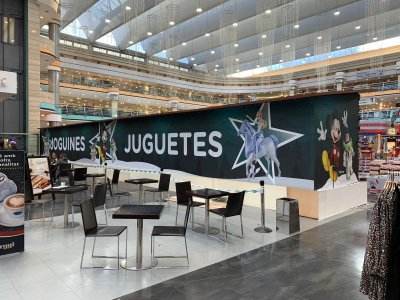 For those looking for an ecological, light-weighted and versatile solution for events, point of sale, window dressing and interior design projects, we have developed a new generation of visual elements with great print quality, total sharpness of images and perfect reproduction of dark colours.

From a light-box to a photocall. In combination with the Sunditex system of aluminium frames it is very easy to install and replace thanks to its finish and assembly system and can be suitable for all needs of the retail sector: fixed elements for shop decoration; campaigns or promotions in store-chains; backgrounds for shop windows; light boxes on one or two sides, decorative elements for stands. To fix to the wall, suspend or self-supporting.
More than 5 years developing the product and experience with major brands in the fashion, jewellery, beauty and cultural industries, and corporate projects.
Latest generation printing technology, in high resolution, specific for textiles. Great printing capacity.
Customized solutions, both for retail and events.
Own workshop of metalwork, clothing and lighting.
Do you want us to advise you?