The walkers come across the structures at the height of the view in streets and squares. They provide plenty of space for communication.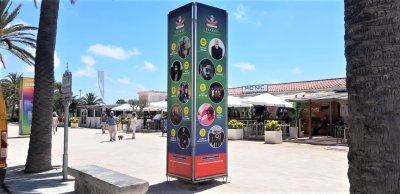 They usually have really attractive designs and invite creativity. In some cases, they may contain some extra element that surprises us: for example, a 3D corporeal. They are ballasted for their safety on public roads. Why not indoors? They can be a creative tool for an exhibition or any type of event. Why not together to form a larger structure?

Flagpoles are structures for fabric flags. They are ballasted for use in outdoor spaces and are customizable. Ideal for large open areas or outdoor spaces. We offer rental of turrets and masts.
We have our own structures for rent.
Security specialists in the public road.
Direct and regular relationship with city administrations.
Do you want us to advise you?